Best Rates Online
Get 10% discount on early bookings up to 10 days before your arrival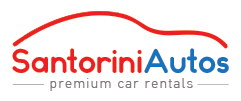 Rent a car from SantoriniAutos, the leading Santorini car rental company that guarantees your safety on the road combined with the low prices. Get up to 30% discount for online reservations! We offer the newest car models in excellent condition & we are always there to assist you, during your stay in Santorini, or even prior to your arrival.

Anywhere Delivery & Collection
We deliver & collect your car to & from any place on Santorini. No extra charge!

Low Prices!
Car rental for your budget!
Low prices, great service!

No Delay Charges!
It's vacation time, and delays happen. We won't charge you for them!

24/7 On Call Delivery
We never sleep! We deliver your car anytime you choose, with no extra charge!

Chauffeur Service
One less thing to worry about when travelling in unfamiliar territory.

Free Theft Insurance
One less thing to care about!
AVAILABLE CARS & MINIVANS